MeasurzTM
Powered by MAT
Assess Your Way

With The World's Most Complete Assessment System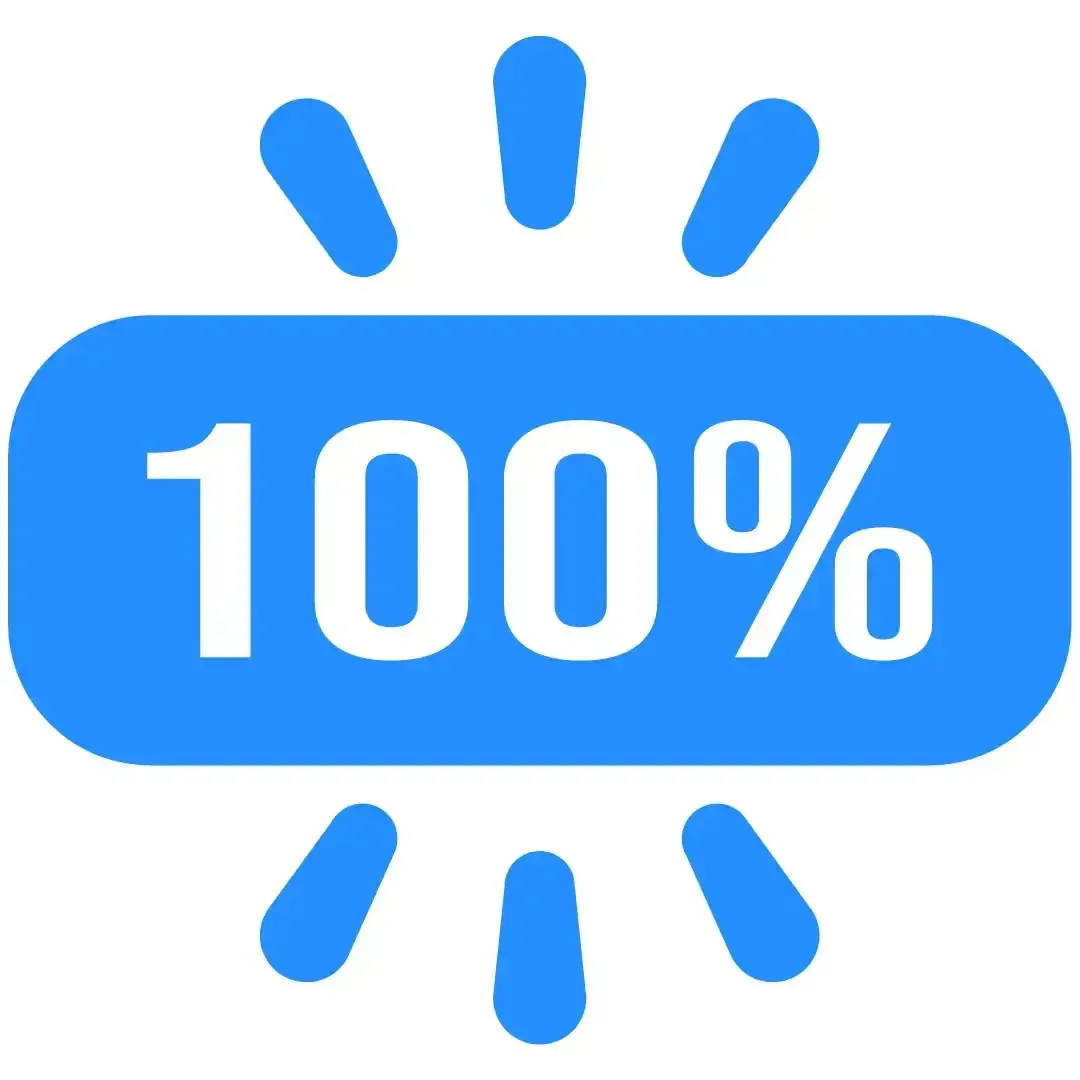 Over 500 Tests
Never write assessment notes again with Measurz covering all your assessment needs 📝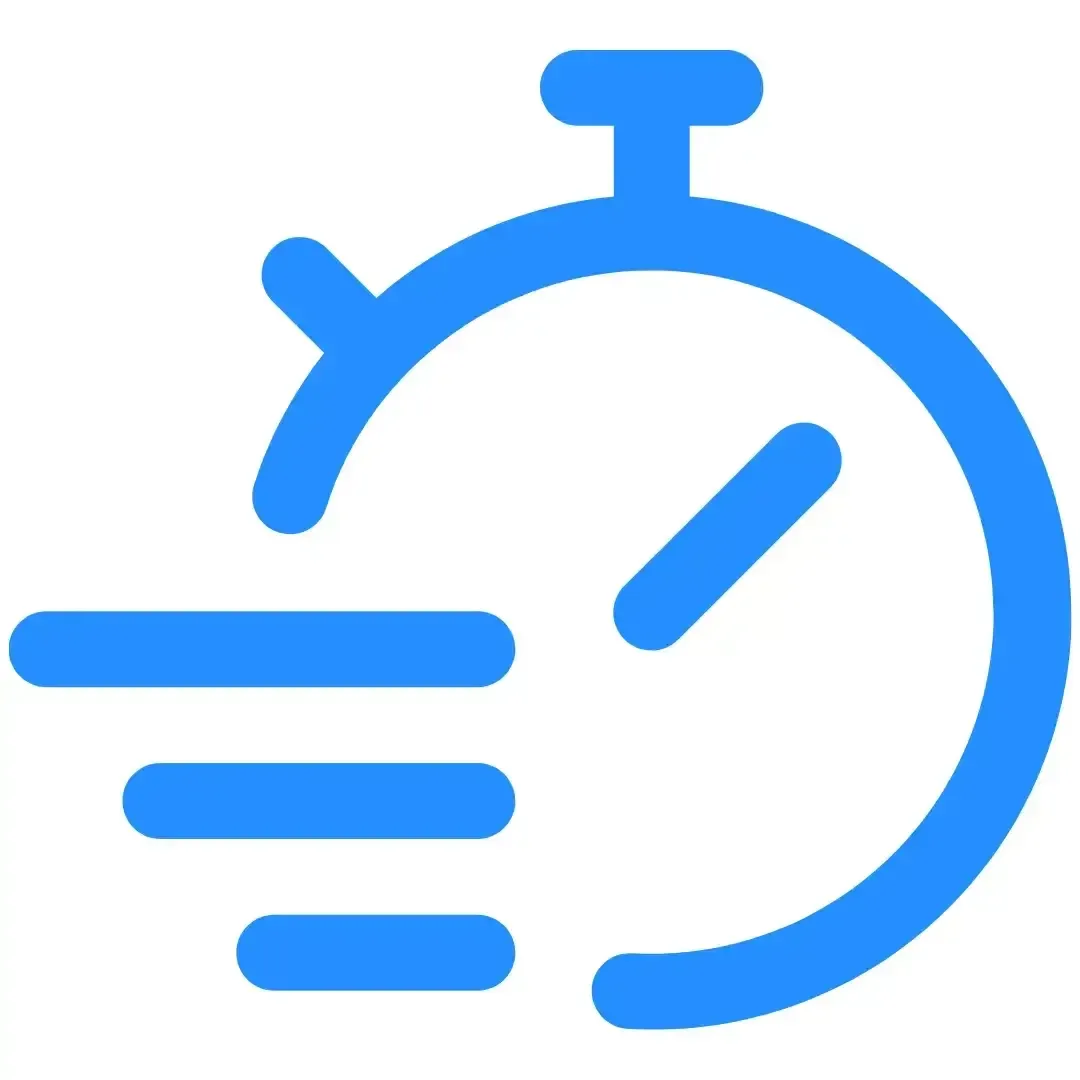 Quick, Simple, Easy
Intuitively designed for your workflow to allow you to start testing clients in less than 10 seconds 🏎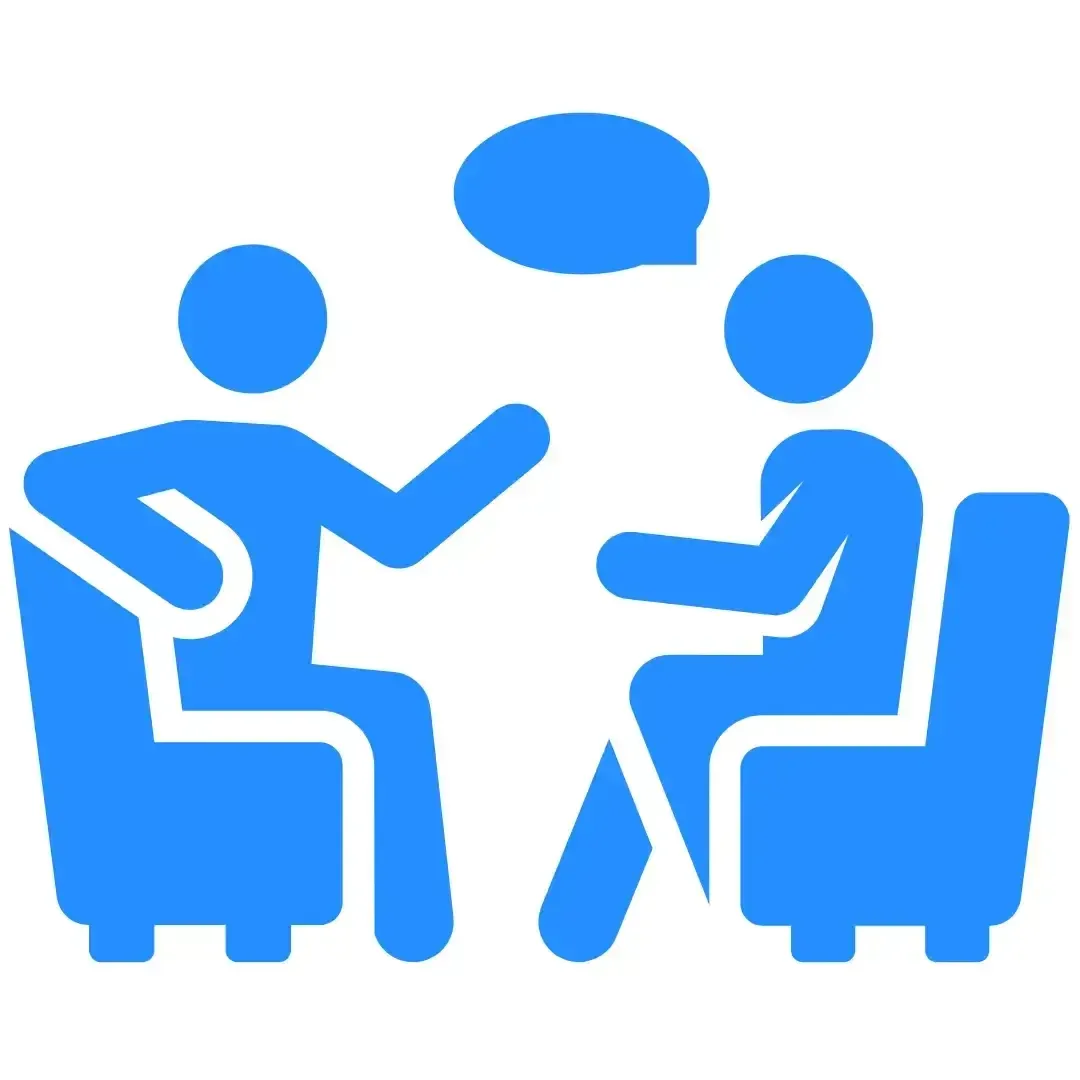 Enhance Client Communication
 Designed with your clients in mind. Let Measurz tell the story and better educate your clients 📚
Measurz Allows You To Measure Every Capacity Your Clients Need To Achieve Their Needs, Wants & Goals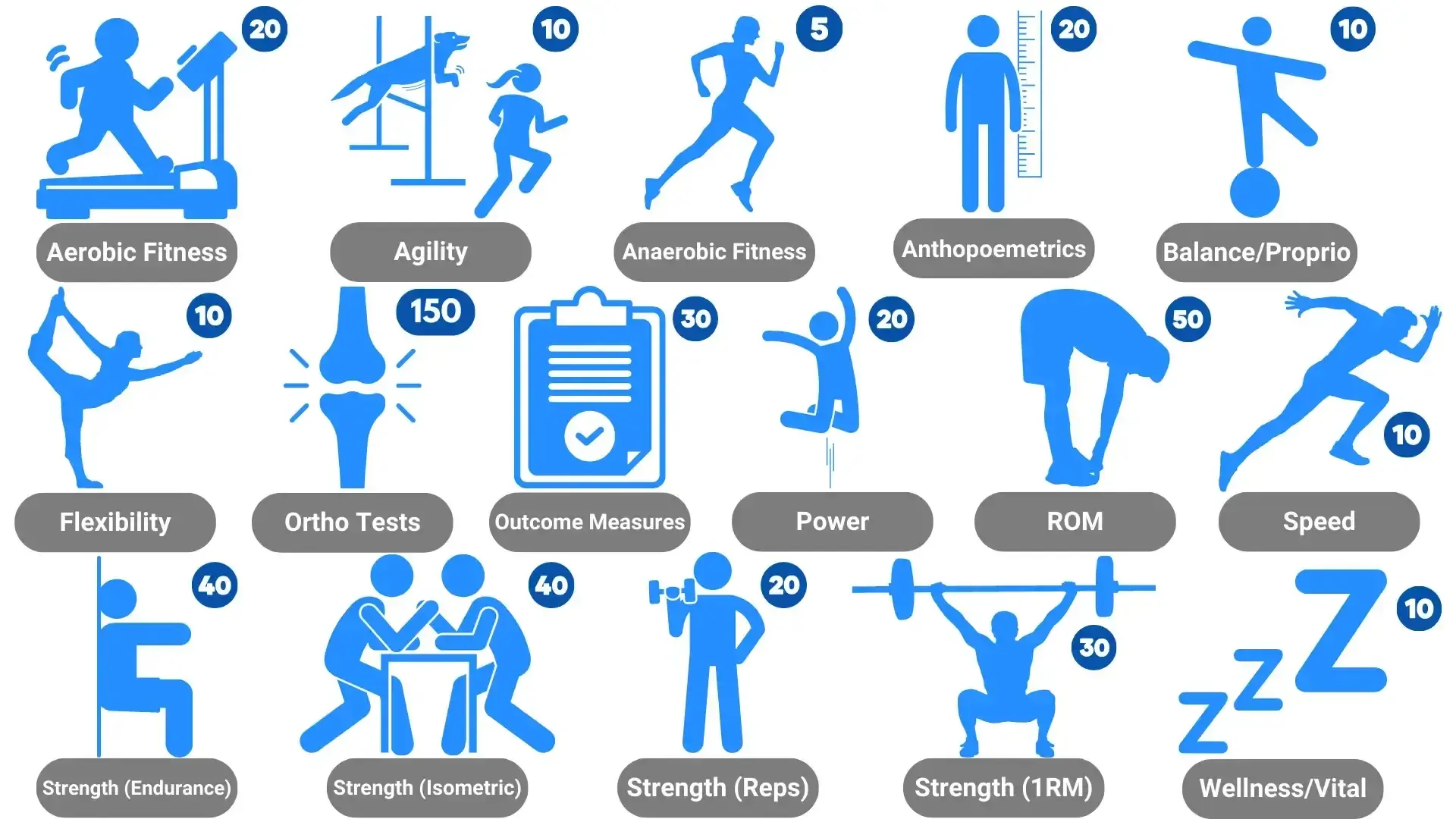 What Makes Measurz The World's Most Complete Assessment App?
Watch The Video Below To Find Out...
Your whole client assessment now lives in your pocket and saves you hours writing notes 
Pull out your smart device at the start of your client assessment and complete your whole client assessment quickly and efficiently.
MAT has learnt from previous experience of creating and implementing other technology into our own business that it can slow down assessment and lose client engagement in the process.
Measurz has been specially designed to allow you to assess your clients thoroughly, whilst still remaining engaged and enhancing communication throughout the entire assessment process.
Then once you've finished your assessment simply head to our web portal and in less than 5 seconds with our one-click export function, copy your whole session into your PMS/CMS/AMS.
Save at least two hours each week using Measurz voice-to-text, in-built testing tools and quick one-click export meaning you never have to write notes again!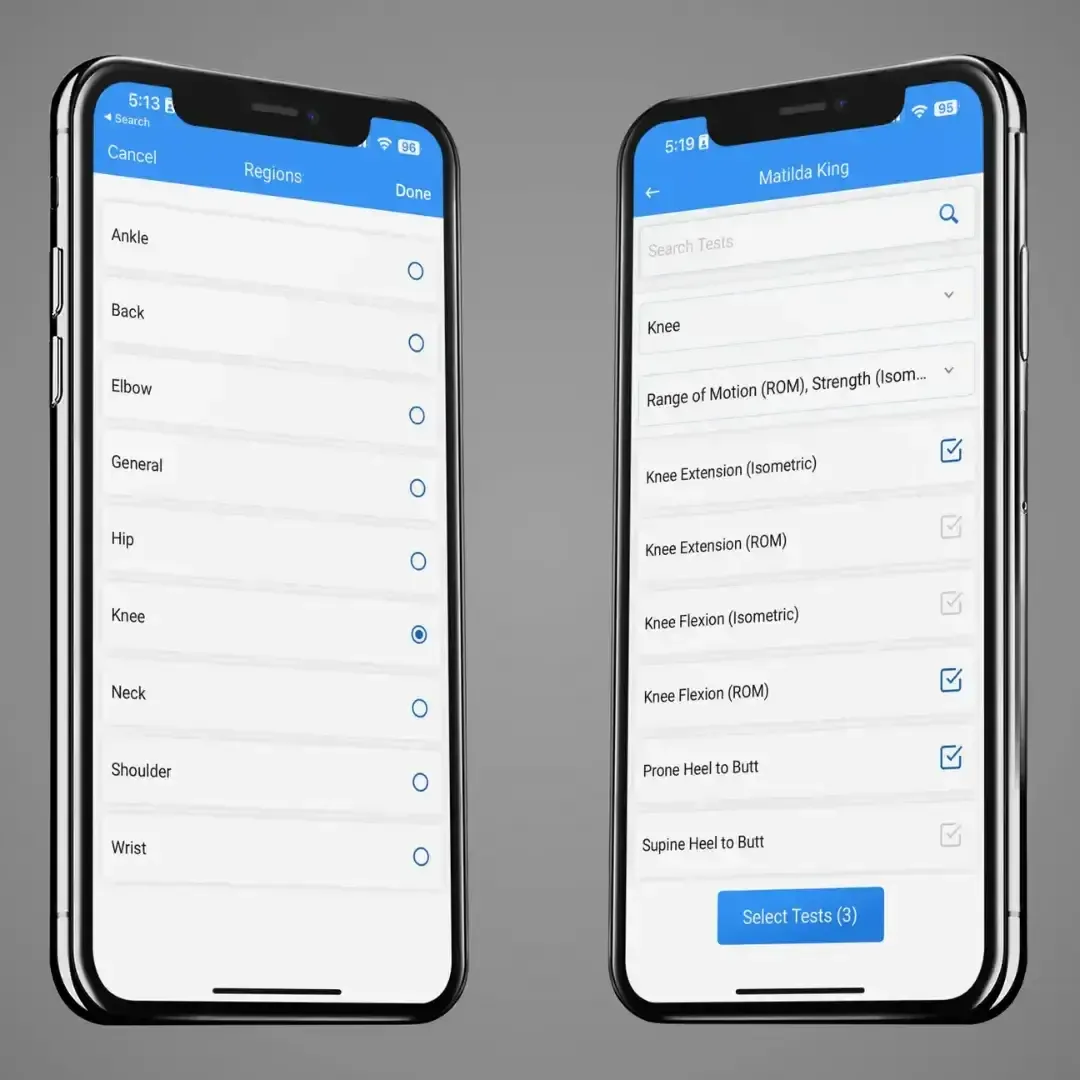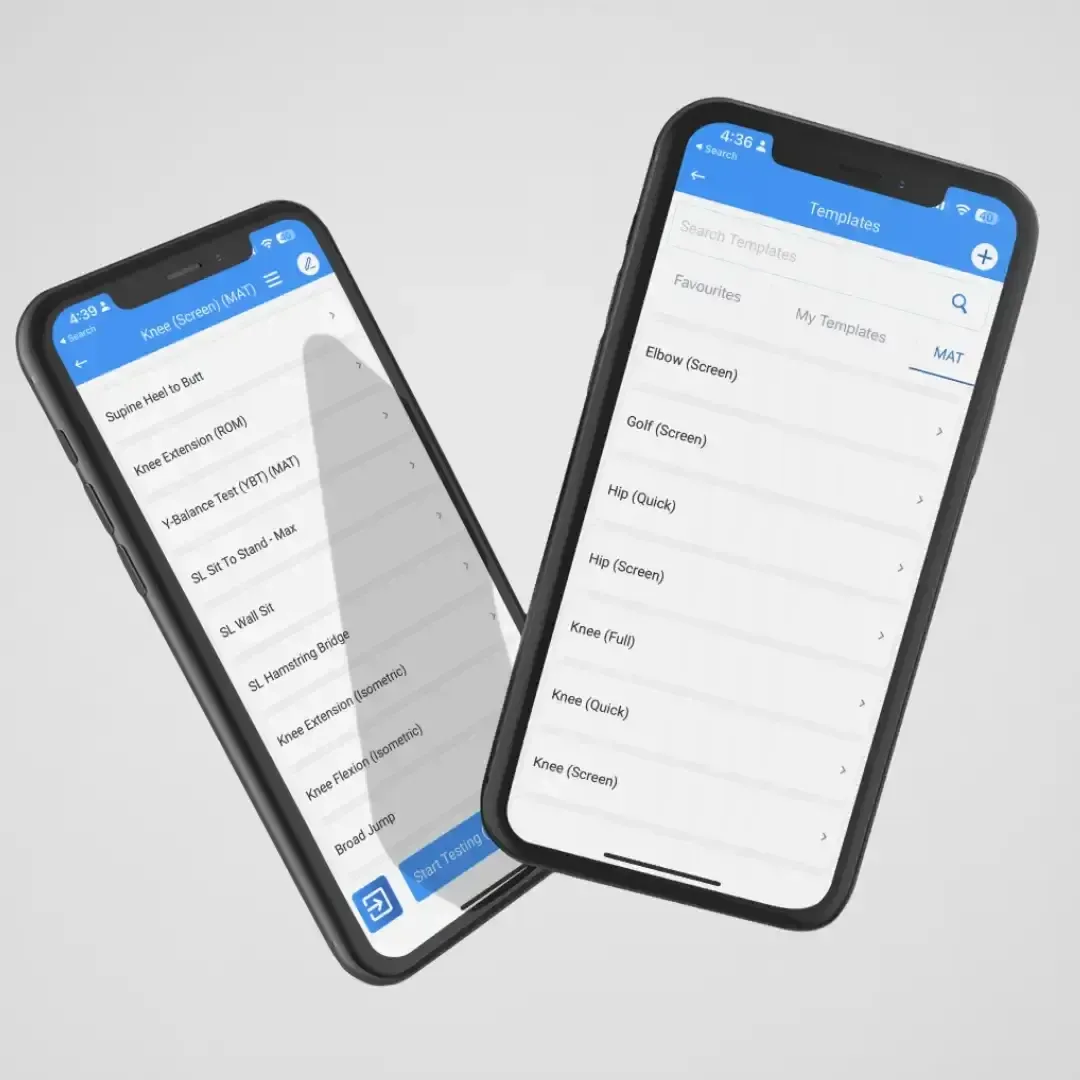 Testing templates designed to help you to streamline your assessment and offer new specialised services
Measurz comes with over 30 (and growing) MAT testing templates to get you started on day 1 with some of our favourite assessments for every part of the body so you can hit the ground running with your clients (literally).
Want to create your own templates from our 500+ tests? Well, you can. You can create your own and share them with your team to standardise testing across your business.
Got your favourite 2-3 templates that you use multiple times per day? Simply add them to your favourites and get started testing in less than 10 seconds.
Need to reassess the same tests you did in the last session with your client? Unlike Tinder, swiping left is awesome. Simply swipe left and you're reassessing the same tests in seconds!
Inbuilt Tools To Digitise Your Assessment And Make Assessment Fun!
Measurz has multiple in-built tools that help you collect meaningful data to better assess your client's capacity.
Measurz helpful tools include: 
+ Inclinometer: Quickly measure angles with your ROM and flexibility tests 📐
+ AI Video Analysis: Automatically measues joint body angles whilst performing any movement or test 📹
+ Countdown Timer with Rep Counter: Don't lose count or track of time with your strength endurance, power and speed tests ⏳
+ Stop Watch: Track time accurately with your balance, strength endurance, power, speed, agility and fitness tests ⏱
+ Rep Counter: Focus on your client and don't lose count of your strength endurance and rep tests 🧮️
+ Rep Max Calculator: Enter your weight and reps and let Measurz do the heavy lifting (pun intended) with a simple 1RM calculation 🏋️‍♂️
+ Metronome: Standardise your assessments with the inbuilt metronome to ensure reproducible results 🎶
+ Muscle Meter: Integrated with our brand-new isometric push/pull/grip strength tester - the most intuitive and affordable strength tester on the market ⚖️ Learn more here.
+ Ability to use our existing tools including the MAT, MegaMAT and Hop MAT🧞‍♂️
+ Plus more coming soon! 👊
Check Out Our In-built Measurz Testing Tools In Action Making Assessment Fun!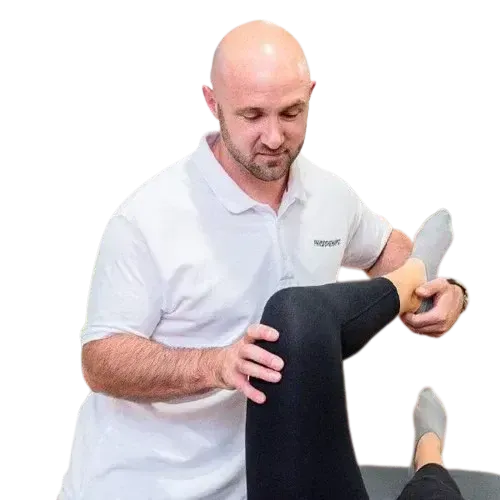 Ben Lustig
Physiotherapist & Myotherapist
"Measurz provides objective data in the palm of your hand, that's easy to understand and quick to communicate to patients. Highly recommended!"
Michael Barbarino
Osteopath & Business Owner 
"The Muscle Meter and accompanying Measurz app has the functionality and ease of use to cater to the busy practitioner at a price that allows for each consult room to have its own kit."
Luke Nelson
Sports Chiropractor & Business Owner
"Conducting an effective & efficient examination has never been easier than with the Measurz app. Simple to use, and all in the palm of your hand"
✅ Intuitive and easy-to-use system designed by health and fitness professionals for health and fitness professionals.
✅ We'll give you a free trial - without having to have a visit from our sales team - simply download the app from the app store and use our code MEASURZ to get 30-days access for FREE.
✅ No lock-ins - we don't believe in locking you in for 3 or more years for our products or Measurz app. If it's saving you time and improving your client and business outcomes you'll want to use it!
 ✅ We keep our prices low (less than one session per year 😲) so every client and team member can have access to cutting-edge assessment - as we know what it's like to run a health and fitness business. We also don't have a board of investors and venture capitalists looking for huge returns on their investment that we have to answer to. The only people we have to answer to are you - our Measurz users!
✅ Quick testing processes - our purpose-built test selection, templates and re-assess functions speed up your workflow - not slow you down.
✅ 500+ individual tests - the most unique tests of any system on the market. If we counted the different positions you can perform each test like others advertise, we'd be claiming over 1 million 'different' assessments.
✅ Assess 17+ capacities that your clients need to achieve their needs, wants and goals in one app - don't get stuck only being able to test strength or requiring multiple different apps for each test.
✅ Never write notes again and save hours in your week - record all your assessment data as you perform them in one place and ensure you're recording every assessment.
✅ We provide free training and support portal including articles, videos and webinars on the tests in the Measurz app.
✅ Secure and reliable cloud access - we ensure your data is protected to the highest possible standards.
✅ You can get support from a qualified health and fitness professional who understands your clients and business.
✅ Our MAT Tools that help maximise Measurz potential are manufactured to the highest standard in leading ISO-certified facilities by qualified professionals - not put together in a backyard garage.
✅ Our software team has over 70 years of experience so we get new features rolled out fast.
✅ Our low-cost subscription provides cloud access and regular updates - not a high-cost subscription that is locked in without cloud access or updates.
✅ One central app with all your tests and data - don't get stuck switching between different apps and devices to run your favourite tests or analyse your data.
✅ Your team can perform your assessments on iOS or Android smart devices (even run it on new Apple Macbooks).
 ✅ We're here to continually improve and roll out new features quickly - we're not sitting back on our laurels thinking our product is complete and that we don't need to implement new features as our customers are locked into contracts.
✅ We won't promise it if we can't or are not intending to deliver on it - we're transparent with our roadmap so we're all on this journey together.
✅ We've got the runs on the board - with over 15000 users of our products and attendees of our courses, MAT are experts in functional performance and capacity assessments. We are passionate about helping you help more people and grow your business with data.
Sick Of Writing Notes & Technology Slowing Down Your Workflow?
So Were We!
Learn How We've Enhanced Your Workflow And Saved You Hours Each Week!
Measurz Pricing
We aim to bring Measurz and comprehensive capacity testing to everyone.
That's why we've opted for a simple and affordable pricing model that can be profitable and grow your business. You won't hear us mention ROI. We don't need to! Measurz costs less than one client session per year.
Using Measurz really is a simple choice, given its ability to save you hours each week on note writing, enhance client retention ethically, produce life-changing outcomes and facilitate the implementation of new services into your business.
Most importantly it makes assessment fun!
We believe transparency is important so we're not hiding our pricing behind an opt-in form or forcing you to make a sales call with our team.
However, if you'd like to learn more or have questions you can message us or arrange a call with the team below.
Add-On Team Members
∼$2
Per Week
($AUD Australian Dollars - $10 Billed Monthly)
FREE 30-DAY MEASURZ TRIAL
Download Measurz On Your Preferred Platform & Start Testing Today
Then Quickly One-Click Export Your Testing Results
To 

Any

PMS | CMS | AMS Via Our Measurz Web Portal
Want To Chat About Measurz?
Book A Video Call With The MAT Team